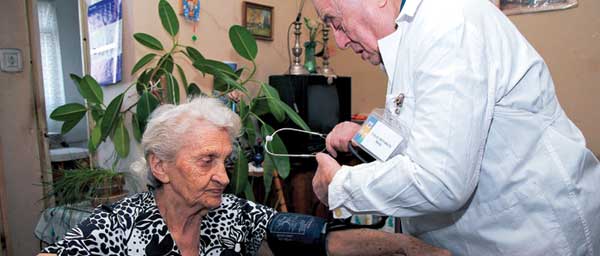 Activity
FEDROM, the representative and operational body of all 38 Jewish communities in Romania, provides a wide range of social and medical services to Nazi victims. In 2008 the Claims Conference significantly increased its funding to FEDROM for Nazi victim services in Romania based on the difficult economic conditions caused by the global recession. In 2012 FEDROM provided services to 1,753 needy Nazi victims.
FEDROM has identified the five most critical social service needs for Nazi victims:
:: Approximately 400 Nazi victims benefit from a food program that includes meals-on-wheels and hot meals in nine kosher canteens in the largest Jewish communities in Romania. FEDROM has forged a relationship with two of the largest food service companies in the country to operate its food voucher program. This program now operates in all Romanian Jewish communities and provides participants the flexibility to shop at local supermarkets instead of relying on monthly food packages with the same contents for all participants. More than 700 of the neediest Nazi victims benefit from this program throughout the country.
:: Homecare is now provided for vulnerable clients who are both isolated and home-bound in 80 percent of the functioning Jewish communities.
:: Nazi victims residing throughout the country can be reimbursed for the purchase of medications that are not covered by their pensions.
:: The winter relief program provides financial assistance for heating and utilities in Nazi victims' apartments. Extra food and medicine are distributed during the harsh winters as seniors find it difficult to leave their homes during this season.
:: An emergency assistance program provides short-term help to ease immediate financial burdens. Categories of assistance often include medical care, medical products, equipment and supplies, and emergency food and medicines.
Other social services funded by the Claims Conference include medical equipment, holiday food and supplies packages, housing-related assistance, and medical care.
Beginning in 1996, the Claims Conference provided significant funding for the renovation of the Rosen Old-age Home in Bucharest, the primary Jewish residential care facility in Romania. Capital improvements to the 110-bed facility include expansion, purchasing equipment, and installing an elevator. The Claims Conference has funded the purchase of multiple vehicles, such as buses to transport disabled Nazi victims and trucks to deliver hot meals to home-bound Nazi victims. Financial assistance has also been provided for the renovation of kosher canteens throughout the country and for the central kosher kitchen in Bucharest.