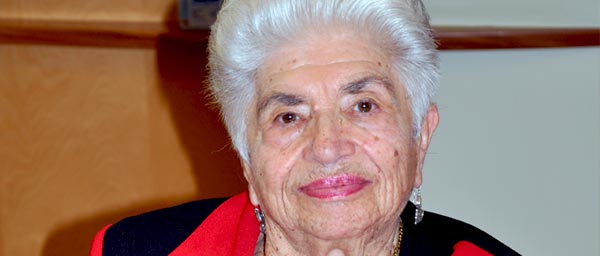 In 1941, at age 12, Luba was forced to flee her native Vinnitsa, Ukraine to escape almost certain death at the hands of the Nazis. She traveled with relatives eastward by horse-drawn carts, trucks, and train through several cities, finally ending up reuniting with her parents in late 1942 and staying in Uzbekistan for the rest of the war.
While the horrendous memories of those four years will never abate, her most enduring disabilities relate to the near-deadly scarlet fever and diphtheria she contracted during this time. In 1945, Luba's family settled in Odessa.
Since Luba and her husband Naum arrived in Australia in 1980, JewishCare in Sydney, a recipient of Claims Conference allocations, has been a constant help to them, and more so since they have become frailer by providing homecare and day center programs.
Luba's initial application to the Hardship Fund was declined. However, in 2009, the Claims Conference negotiated with Germany to allow second applications to this program. Luba then received a letter from the Claims Conference inviting her to reapply for the one-time payment. Receiving the compensation and having her experiences acknowledged by it was very important to Luba.
"All the staff at JewishCare have been so helpful, guiding me through the application process and have kept focused on receiving the compensation I have never stopped dreaming of receiving. I can't thank JewishCare enough," said Luba.